Our woodlands
The woods here are classified as semi natural ancient woodlands which means that woodlands have been here for several thousand years. Historically most would have been felled on a rotation basis for charcoal production. In more recent times some would have been felled during WWI for pit props in the Welsh mines SO while all Ancient Semi Natural Woodlands will have been on the land for centuries over time their management will have made use of the timber. Obviously specific wildlife communities develop and survive in such woodlands and today we have many different species present. We have managed the woodlands for 25 years now and during that time some timber is extracted for firewood purposes, some for beam oak used in building work and some planking is routinely done too. Today their management provides opportunities for recreational activities for visitors to Old Oak Barn who appreciate their beauty and diversity as much as we do. We take great pleasure in seeing youngsters explore and enjoy the woods, sometimes a very new environment for them.
In 2018 we developed a sunny space at the edge of the woods near the Fairy House. Visitors can have a fire there and cook too. There are plenty of seats and a huge sequoa log which serves as a table. The local nursery children come and play most weeks midweek in the morning, weather permitting. Its great that the local community can enjoy the woods. 2020 sees the development of a mud kitchen. Watch this space.
This picture shows a small copse planted 10 years ago near the pond where Greylags nest every Spring.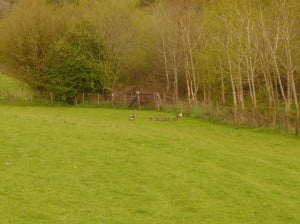 Cwmpalis woods are not the purest type of ancient woodlands because there is evidence that some alien species have been planted there specifically Sycamore and European Larch. Today the main species in the 40 acres here are Oak, Ash, Sycamore, Birch, Holly, Hazel, Alder, Wild Cherry and Hawthorn and a few Beech and Aspen. We have also planted a few Nordmann Fir and Norway Spruce as a Christmas Tree crop. A lot of the trees here are over 60 years old and some around 100 years. The most recent plantings were in 2014. Below you can see Old Oak Barn which nestles under the woods adjacent to another barn used as a workshop.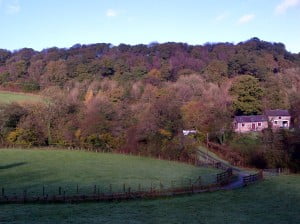 This final picture shows a small area of clear fell at the top of the wood in 2014 and the glorious show of bluebells which emerged in May. The whole of the woodland floor is full of bluebell bulbs which of course only grow and bloom when light reaches them. These bluebells were visible half a mile away!