Cardiff Poppies
A few days ago the wonderful display of Cardiff Poppies was unveiled in Cardiff Bay and this is on view until 24 September.
Why not stop off enroute to Old Oak Barn or on the way back if travelling up the M4. I am hoping to see them myself soon.
There has been some great coverage in the press
A cascade comprising several thousand handmade red ceramic poppies, Poppies: Weeping Window was originally seen pouring from a high window to the ground below at the Tower of London as part of the installation Blood Swept Lands and Seas of Red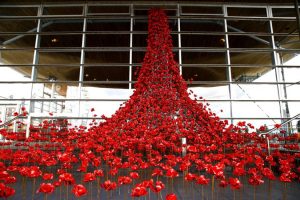 image credit: Weeping Window at Y Senedd, the National Assembly for Wales in Cardiff Photo credit: Geoff Caddick/PA Wire
We have space during the first weekend of the month but are full then until 29th of September. Those who have already booked their stay with us in September will have time to plan a visit to see them if interested.