Carmarthen Museum
We recommend a visit to the Carmarthen Museum.  On the outskirts of Carmarthen in Abergwili you will find The Museum of Carmarthen which has 11 galleries which together take  you through 50,000 years of local history. I visited it the other day and was fascinated by many of the exhibits. The building itself used to be where the Bishop of St Davids lived (1542-1974) and interestingly it was also where the New Testament was first translated into Welsh many years ago in October 1567.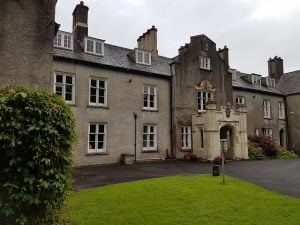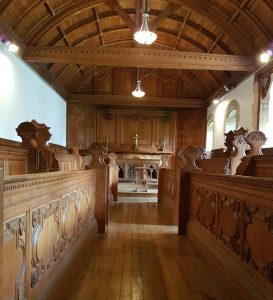 To the left is the interior of the chapel with its splendid wooden ceiling. There are also many costumes on display including uniforms of Carmarthenshire Yeomanry Cavalry, an Officer's Coat, Trumpeters headress and other historical items.
In particular there are some great paintings of important local people involved in the setting up of the Circular School movement along with Gruffydd Jones in the 18th century which of course happened to be near St Clears. Below is a painting of Madame Bevan. She married Arthur Bevan MP for Carmarthen Borough in 1721 and was a wealthy woman who gave generously to charities. The painting of her has been in the Carmarthen Museum since 1998.
Below is a photo of a reconstructed interior of a school as it would have looked in the 19th century which is when many of the small village schools were opened in this part of Wales. It is sad to think many have now closed but inevitable in many ways.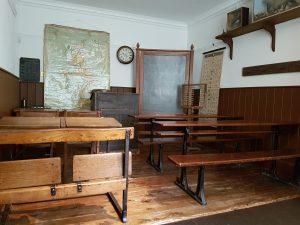 Opening Hours
The museum closed in January 2020 for major restoration works and intends to reopen in 2021.
The Carmarthen Museum is only 5 minutes from the centre of town and 20 minutes from Old Oak Barn. All photos in this blog were taken by myself with permission of Museum staff - many thanks! I appreciate being allowed to use them.