Carmarthen Velodrome
Did you know that the recently opened Carmarthen Velodrome is generally accessible for free between the hours of 9 and 6 during the week provided it is not hosting a tournament. If staying at Old Oak Barn and you have brought your bikes why not pop along for some practice! Provided you go anti clockwise and take note of the rules which are on display by the grandstand you will be very welcome. Managed by the Town Council, it was decided to continue with the tradition of not charging for its use as this had always been how it was operating - to encourage the people of Carmarthen to enjoy the Park and what it has to offer.  Phone Laura on 07794 024952 who will answer any questions I am sure.
The Velodrome is one of the oldest in Europe and certainly the oldest in Wales.  It is one of only a tiny handful which has been built with concrete. But its big claim to fame is that it is the only one with a rugby pitch in the middle of it! Around 12 games a year are played on the pitch and then of course the velodrome is shut for cyclists. What a venue!
Click here to see a short clip from the Carmarthen Velodrome facebook page which will give an idea of what to expect.
So, we are lucky enough to have one of the oldest velodromes in Wales, if not the world, here in Carmarthenshire just 15 minutes from Old Oak Barn. Built in 1900, the velodrome at Carmarthen Park - home to the Towy Riders Cycle Club - has now been refurbished.  All 232 concrete surface panels that make up the track have been replaced, along with a new safety zone built along the inside perimeter. There is also a safety fence around the outside edge. As well as being used for training by local clubs and the community, it is hoped the velodrome will become a regional centre of excellence for hosting national and international cycling competitions. Great little Tea Room in the park too!

Its amazing to think that had the velodrome been in operation when the Welsh cyclist Geraint Thomas was learning to ride a bike he may well have cycled there because as we know his family is from Carmarthenshire. What a hero he is! Now an MBE he is one of the most popular British professional racing cyclists. He currently rides for the UCI WorldTeam Team Sky, Wales and Great Britain. Competing on both track and road, he has won three World Championships, two Olympic gold medals and one Tour de France.  I was lucky enough to see him whizz through Carmarthen in September in the Tour of Britain. The two photos below I myself took in Pensarn - it was only when I looked closely at them later that day I realised who I had snapped.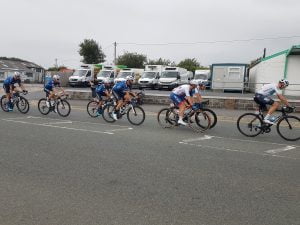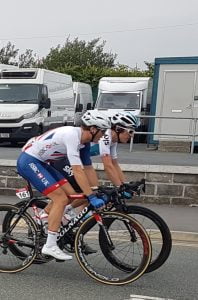 © Copyright Charlotte - permission needed for last two photos to use please