Dinewfr

In April I visited the wonderful National Trust property of Dinewfr Park in the Towy Valley about 35 minutes from Old Oak Barn.  Dinewfr in the Spring is now an annual walk for me because there is such a variety of beautiful Spring sights and sounds there.  But it is such a beautiful estate with so much going on whatever time of year you visit. In April of course the trees are beginning to come into leaf and the bluebells too make an appearance. You wont be disappointed if you visit.
Opening Times are as below:-
Dinefwr Castle10:00 - 16:00
Billiard Room Restaurant10:00 - 18:00
Boardwalk10:00 - 17:00
Deer-park10:00 - 17:00
Grounds10:00 - 18:00
Newton House10:00 - 18:00
Parkland10:00 - 18:00
Shop10:00 - 18:00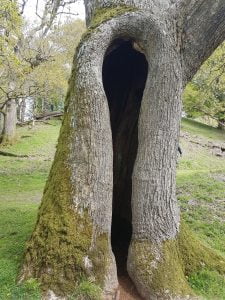 This hollow tree is begging to be made into a Fairy House!
Dinefwr is the only parkland National Nature Reserve in Wales and is bursting with colourful flowering plants.  It is well known for the Bluebell display on Rookery Ridge which is on the Cattle trail. When I was there the wild garlic was also out.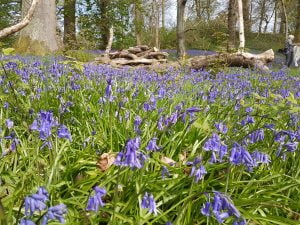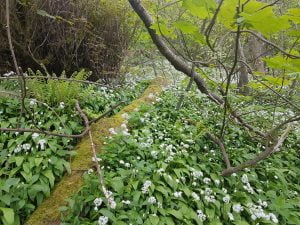 It will cost you just £8 for adult entry and £4 for children.
It is famous of course for its herd of White Park cattle and the deer - which I was lucky enough to capture crossing my path in the woods in mid April.