Anna's Welsh Zoo
This delightful tourist attraction near Tenby was also known as Manor House Wildlife Park and takes its name now from its owners Anna Ryder Richardson and husband Colin.  It has something for everyone! It is a very thoughtful environment for animals to live and when we visited we were struck how calm and contented they all looked.  You can immerse yourself in the animal world, inspire and amaze the kids, let them run wild while you have a relaxing day out too! Anna's Welsh Zoo allows you to get close up to several species in a very natural environment.  It is a little more expensive than other nearby attractions BUT the animals must cost a fortune to keep fed and happy!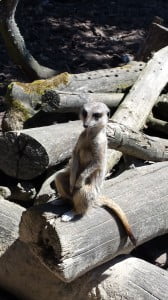 You can see African rhinos, zebras and ostriches. Hang out in the jungle-like Valley of the Apes and watch Steve, Lisa and Bryn the gibbons swing through the trees, and be amazed by their fabulous jungle calls.  You can wander with the wallabies and even feed them from your hand. Watching the meerkats,  the macaws, wild horses, kune kune pigs, the camels and the South American paddock with tapirs, Tommy and Rio, rheas and llamas will enthrall you.
Set in 52 acres of Pembrokeshire parkland, the setting is stunning. There's plenty of space for your wild troupe as well as the animals! Many season ticket There is also a huge front lawn with space hoppers, bikes, toys and swing ball and a wonderful willow tunnel too. Currently under construction is a huge indoor play area.