Carmarthenshire offers a huge range of walking opportunities and many visitors to Old Oak Barn enjoy getting out and about for a good walk. We have a full collection of OS maps which you can borrow and can offer extra advice for those wanting it!
Some of the best walks are around Laugharne and if you click Derek weatherman walking in Laugharne you will get a pretty good idea of just how beautiful the scenery is. This link takes you to a very short film from BBC archives.
Old Oak Barn is only about 10 minutes from the start of the Dylan Thomas Birthday Walk as it is called and there is a great little website which explains that if you do this walk on your birthday you can claim all sorts of free gifts in the village!
Main points are :-
Location: Laugharne
Distance: 4.5 miles
Description of this walk: Two loops around Laugharne following in the footsteps of Dylan Thomas.
Walking in Carmarthenshire
Further afield you can explore the coast if preferred - take a peep at Carmarthenshire short walks for more details.
One of our favourite walks is around Llansteffan and the views here are awesome!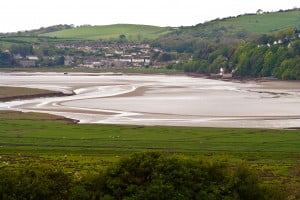 Or you could simply enjoy walking around Aberglasney, Dynevor Park or The Garden of Wales near Carmarthen, three of the counties most popular tourist attractions.


Brecon Beacons
The Brecon Beacons National Park is one of the Wales's most loved regions and the western end of the Beacons, falls within south-east Carmarthenshire. This is seen by many as the real jewel in the crown as this is home to many of the least explored sections of the national park. The area of high, rolling country high above Llandovery, Llandeilo and the Towy Valley is known locally as the Black Mountain. This brooding peak is has a personality of its own - remote and atmospheric, it is untamed and exciting. We highly recommend a day out in this part of the county too.
Finally we love walking in Brechfa Forest and we are sure you will too! This picture was taken last summer during the heatwave.