Gwili Pottery
The famous Pottery near Carmarthen has been lovingly creating fine pottery for nearly 40 years in this part of the world. Their pottery is awesone! Our visitors love Gwili Pottery!
Each piece is unique and everything is hand thrown by a very skilled and imaginative team. Each piece is hand painted too. I love their strong vibrant colours and while staying at Old Oak Barn it is lots of fun to go to the pottery which is only about 6 miles north of Carmarthen.Very easy to find being just off the main Lampeter road going north out of town.
Opening hours are as follows :-
9am to 5pm Monday to Saturday
11am to 3pm Sunday
Adddress: Pontarsais, Carmarthen, SA32 7DU
Tel: 01267 253449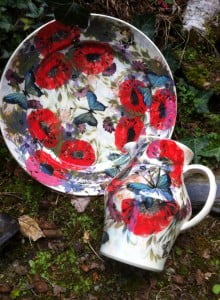 Visitors are very welcome to watch the potter at work and to chat informally with the painters too.
Gwili Pottery also undertakes commissions and their wonderful ceramics are exported all over the world as well as being on sale locally.
Work is now on display in Carmarthen town centre at the new craft shop and gallery called Elephants and Bananas.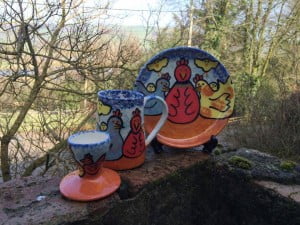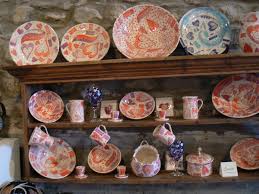 Watch this short video which although 5 years old now still shows off Gwili Pottery well.