Llyn Y Fan Fach
This is one of Carmarthenshire's most beautiful walks and I'm not surprised it features in Lonely Planets top 1000 must see sites across the whole world! We walked it on a beautiful September day with a little cloud cover coming and going which made the shadows and light all the more fantastic to see! The 5K walk starts at the car park with a gentle stroll initially along a firm track. Be warned though - the road from Llandeusant to the car park is full of potholes! For those staying at Old Oak Barn we can provide extra information on how to get there and what to expect! Or check out this website guide to plan your trip.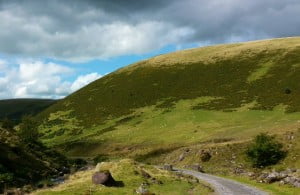 Heading towards the little trout farm you are flanked by gushing mountain streams and some great views of the distant peak of Pen Y Fan. You will reach Llyn Y Fan Fach in about half an hour - the walk is suitable for most people but if you want to ascend further to the top then allow about 5 hours and suitable clothing and footwear. It is here at the lake that as ancient legend has it a beautiful lady still lives! The story goes that back in the 13th century a farmer grazing cattle nearby spotted the most beautiful woman he'd ever seen. She agreed to marry him on one proviso – that he must not hit her more than twice. You can guess what happened! In time, yes .. the inevitable happened – three strikes, and the otherworldly wife disappeared back into the lake, taking her magic cows with her. The valley, the guide adds, is rich in medicinal herbs and bog plants, suggesting this may be the mistreated fairy maiden's healing legacy. It is also linked to story of the Physicians of Myddfai.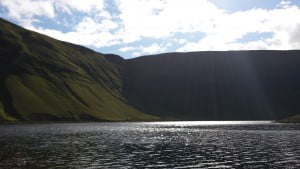 Today it is grazed by hundreds of sheep who do a good job at putting up with walkers! The views north from the lake are amazing. We ran out of time to continue to walk to the very top but spoke to some who had who were delighted with their efforts! The spot is actually in Carmarthenshire and in the Black Mountains too which itself is part of the Brecon Beacons National Park.  You can read more about the lake - its history and geology if you visit here.