London Walking Tours
We get lots of visitors from abroad - mostly from Europe but often from Canada, America, New Zealand and parts of the Middle East. Some stay in London before or after their stay in Wales. If you are thinking of visiting the big city and want to organise a London Walking Tour then we can recommend giving Jonnie at Bowl of Chalk a shout as he is bound to meet your needs. He stayed with us here at Old Oak Barn recently although it wasn't until after he had left that I realised what he actually did. I am sure if you want to learn some fascinating facts about the history of London then Jonnie is the person to get in touch with.
You only have to check out his reviews on Trip Advisor to see that he is very highly rated 14th out of 788 London Walking Tours in the whole of the city! Bowl of Chalk also features in the top 101 favourite things to do in London!
If you'd like to join one of the regular Weekend Walks it's really, really important that you book ahead. You can find all the details of how to contact Jonnie on his website. Talking of which it is packed full of great photos and articles which demonstrate clearly the depth of Jonnie's knowledge and expertise.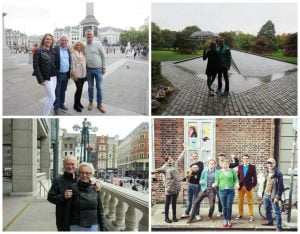 The Cultural Exposé wrote that "this is not your standard walking tour and working on a tipping policy (just pay what you can) Jonnie is not your standard tour operator ..... a friendly way to learn more about London."
Jonnie AKA JJ Fielding has also written a book - he is clearly passionate about London - and very knowledgeable too.
Just a reminder that if you would like to stay at Old Oak Barn you can check out availability here.