Melin Tregwynt Pembrokeshire
This amazing mill has been in the same family for many generations and since 1912 and continues to produce the most beautiful items which are now sold around the world. On a recent visit to Melin Tregwynt  Pembrokeshire we also enjoyed a bowl of soup in the cafe. It is tucked away on the north coast of Pembrokeshire and I am sure you will enjoy a visit there too. Last year visitors to Old Oak Barn took back to New Zealand some blankets and a tailored woollen jacket which I am sure they will have for years.
I'm not too sure who is in this picture but it must be one of the original owners of the mill - (copyright Tregwynt)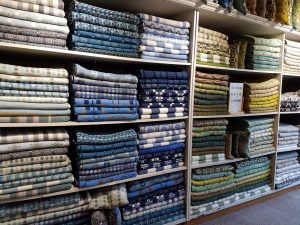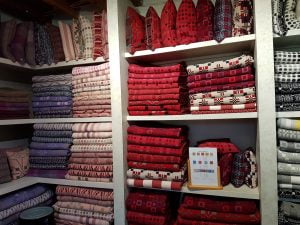 The colours as you can see are wonderful!
Melin Tregwynt Pembrokeshire is to be found off the A487 Fishguard to St. David's road at:-
Tregwynt Mill, Castlemorris
Haverfordwest, SA62 5UX
United Kingdom
Visitors can see the mill working from 9.00am – 4.30pm Mon-Friday. Today it employs about 30 people some of whom have worked there all their lives.
Shop/Café opening hours are:
Monday to Friday 9.30 - 5.00
Saturday... 10.00 - 5.00
Sunday...... 11.00 - 4.30
You may wonder if all the wool used is locally sourced - well sadly not but there are plans to reverse this trend. The tradition of weaving in Wales goes way back to the middle ages.  The hills and lowland pastures make for great sheep country and fast running streams provided the power needed in the pre-industrial age. In the early 20th century most small rural mills worked with their local farming communities, processing the raw fleeces, carding and spinning yarn for weaving and knitting. Fabric was woven for everyday clothing (tweed/flannel) or weaving blankets, rugs and the signature Carthenni double weaves for household use. But with the setting up of the British Wool Marketing Board all wool was sold centrally and most ended up in a blended yarn for carpets. Today in a global market wool is sourced worldwide and much of the softer lambswool comes from Australia or New Zealand.
Its good to know that after several years of hard work, the Cambrian wool initiative is making big steps to use local wool a lot more. And with Melin Tregwynt being a prime partner things look set to change in the future.
Melin Tregwynt Pembrokeshire also make some truly beautiful cushions!