Old Oak Barn flowers are much enjoyed!
I have always taken huge pleasure in growing flowers. For over 40 years now I have sown lots of annuals and during our 28 years here at Cwmpalis I have certainly developed my own random gardens which provide variety, colour and interest. For me one of the pleasures is being able to pick them to enjoy inside. Increasingly though I value watching the birds feed on the seeds be it Red Hot Pokers in July or the later flowering sunflowers. Growing winter bird food naturally is something we can all do!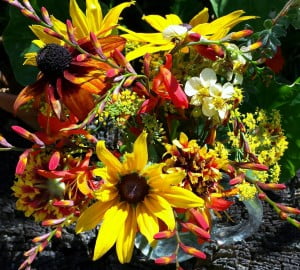 All the photos here were taken by myself and all the flowers have been picked and then displayed ready for visitors to the barn. Some of the favourites are of course sweet peas! The other benefit of course to growing plenty of fragrant flowers is that it helps the bees!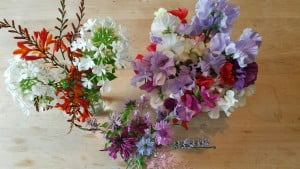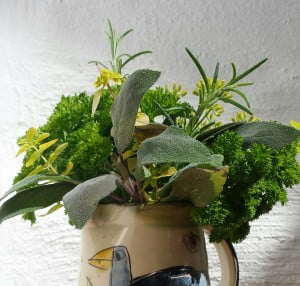 If flowers are a little scarce or unavailable then I can improvise and use some of the many herbs - the display on the left includes parsley, marjoram, sage, rosemary and fennel.