Oriel Myrddin Art Gallery - Carmarthen
The Oriel Myrddin Art Gallery in Carmarthen has a fascinating exhibition on at the moment which runs until 8 July. I would recommend a visit whatever your age or interest and I am sure our visitors here at Old Oak Barn will call in. The gallery is easy to find being at the top of King Street in the older part of the town and parking couldn't be easier either free at Lidl for an hour or so or at St Peter's Car Park.
As part of the Ephemeral Coast series of exhibitions and events, Oceans: Surface/Below presents the work of United States-based artists Pam Longobardi and Diana Heise. Both artists use environmental mapping to consider the effects of plastic contamination, industrial fishing and habitat degradation within the world's oceans. I visited on Saturday and left feeling very sad to see more evidence of the damage we are doing to the planet and in particular to imagine the mountains of plastic which contaminates the sea. We read a lot about the impact of plastic which ends up in the oceans of the world and the displays highlight this quite remarkably. While I was there a group of children were learning about this too - it cannot but fail to leave a lasting impression on their young minds.
Pam Longobardi, who herself nearly stayed with us here in the barn, collected materials from Llansteffan beach earlier in May and they are displayed in a glass cabinet - but for me the beauty of the central "nautical" display from plastics from Kefalonia overwhelmingly stole the show. I don't think you could visit and not be unaffected.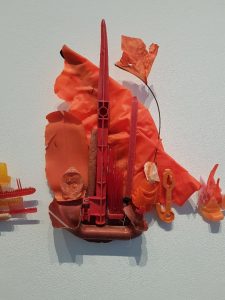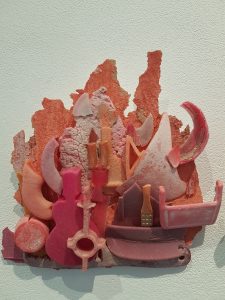 In addition the scale of the pile of "life jackets" in the photos displayed as seen below which are mounting on a beach in Lesvos is shocking. The large flag display which is made from materials found on this famous island off the Turkish Coast must have taken hours to create and for me is also one of the highlights.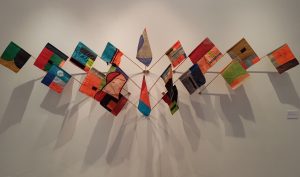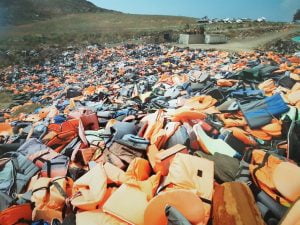 Oriel Myrddin Art Gallery Carmarthen
The exhibition runs until 8 July and the Oriel Myrddin Art Gallery which is supported by the Arts Council Wales is open between 10am and 5pm - Mon - Sat. Free admission.