Tourism Awards for Old Oak Barn
This year for the first time ever I decided to put Old Oak Barn forward for 2 Tourism Awards with the Carmarthenshire Tourist Association.
There were strict judging criteria and both entries required me to focus on what I know we do well here at our lovely self catering holiday accommodation! Written applications were submitted and extra supplementary evidence was included and some weeks later I heard that Old Oak Barn was indeed shortlisted for the final in both categories.
Sustainable Tourism Awards
Best Customer Service in Tourism Awards
The next stage was an appointment with two judges who visited me here on two different days in early November. The first award was sponsored by The National Trust and I must have done something right because I was awarded SILVER!  In the finals I was up against the Ceridwen centre near Newcastle Emlyn which is a very big enterprise which hosts weddings, has yurts and holiday cottages plus is a large venue for local and community events eg Fireworks and Christmas Fayres. I was also up against the Myddfai Centre near Llandovery which is an award winning community and visitor centre which opened in 2011 by none other than HRH I believe! This was lottery funded initially and is recognised as a centre of great interest to many. The fourth finalist was Larkhill Tipis which is a long established glamping and yurt and tipi site in West Wales. They offer five different nomadic 'glamping' experiences: an Alachigh, a Mongolian Ger, a Bentwood Yurt, a Lavvu and a Native American Tipi. This has won several awards over the years and opened in 2003.
You can imagine how thrilled we were to receive Silver in this category.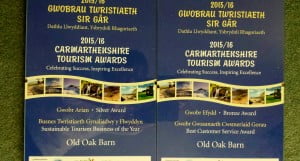 I had to give evidence for and explain amongst other things how we manage and monitor our energy consumption, water and waste, how we recycle and reuse what we can. How the building was originally converted and materials used. How we promote the visitor experience. How we help our visitors understand what it is going on in the local area and further afield. How we get involved in local charity work. How we promote, protect and support the local environment, nature and wildlife. Initially I had thought just to enter this one category but just two days before entries closed I decided also to go for a second award - that of Customer Service.  I know we look after our visitors very well because I am constantly told so by people who stay here. I had to demonstrate HOW we go the extra mile to make sure people get the very most out of their visit. Judges were impressed with the details I provided plus of course our many amazing reviews online and in the visitors books. I know there is scope for me to monitor and evaluate visitors views even more and in a more formal way but at the end of the day there is only so much anyone can do to encourage visitors to tick boxes and complete questionnaires!!!! I was told there were lots of entries in this particular category so I was over the moon to be awarded Bronze!
So we went along to Llanelli on 25 November for the Awards Night! There was entertainment in the form of a string quartet, food and drink and we came away with two awards! Thank you so much to everyone who has helped to make Old Oak Barn the very successful business it is today!
Here we are all dressed up at the Awards evening!