Traditional Upholstery Course
Across the fields from Old Oak Barn you will find the long established Traditional Upholstery Course run by Liz Marks. Set in old farm buildings the course attracts those keen to learn the traditional way of upholstering from all over the world. Sometimes they choose to stay with us here at Old Oak Barn. I am reliably told that this is one of the best courses in the country with tutors paying great attention to detail to get things right. The course can lead to accreditation if that is what people are aiming for. There are courses to suit everyone, from one week duration to longer Diploma or AMUSF accredited courses. When I talk to those who are on the course which runs from a Monday through to a Friday most weeks of the year I am struck by how much they enjoy the course but all do say patience is needed. And I am in awe at some of the pieces of furniture which are transformed during their stay in Wales.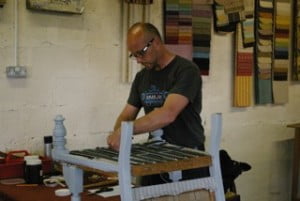 So have a look at The Traditional Upholstery Course website for lots of ideas and information and give us a shout if you would like to stay. You can virtually see the workshop across the fields and I am sure if on a sunny day you look across the valley from there you will see our sheep and Greylags too!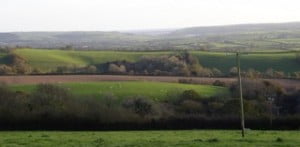 Phone Liz on 01994 232124 - she will answer all your questions and is on hand to book you in to a course! Judging by the reactions of those we have met who have done the course, some for several weeks, it is very well led and organised with expert tuition too. With only 5 on the course at any one time you will get lots of personal attention.