Towy Valley Cycle Path
Who wouldn't want to walk or cycle along the River Towy as in the picture below!
The views in this part of Wales are out of this world and it is no surprise that at last a proper walkway/cycle route is being developed in the Towy Valley. Plans are now well underway for the Carmarthenshire cycle route/footpath which will link Carmarthen with Llandeilo. It follows an almost adjacent route to that of the River Tywi also spelt Towy.
The path will link in with major tourist attractions through the stunning Tywi Valley countryside.  These popular tourist attractions include of course Aberglasney and Dinefwr
A fantastic aerial shoot has been released - click here
The 16 mile Towy Valley Cycle Path path will cost between £5 and £8 million, and a strong set of partners and stakeholders are being formed with funding in place from Welsh Government and the council. It will also give people a sustainable and healthy travel option, connecting with villages between the two main towns. It is anticipated that this will bring in thousands more visitors into the county and we think some of our visitors here at Old Oak Barn will want to enjoy the walk too. The project will inevitably create a number of jobs which will also be a boost to the local economy.
The path is being developed in phases. Initial works have already taken place between Fronun and Bwlch Bach, near the concrete works in Abergwili.  Talks with landowners are ongoing, and various grant applications are still being prepared and submitted. The timeline for opening has not yet been released but lets hope it is not too far in the future!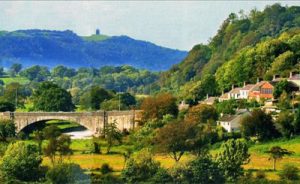 Walkers Are Welcome took the photo above which shows Llandeilo looking west down the valley with Paxtons Tower in the distance.